BEATRICE EVERFRESH MILK – 1.5L BOTTLE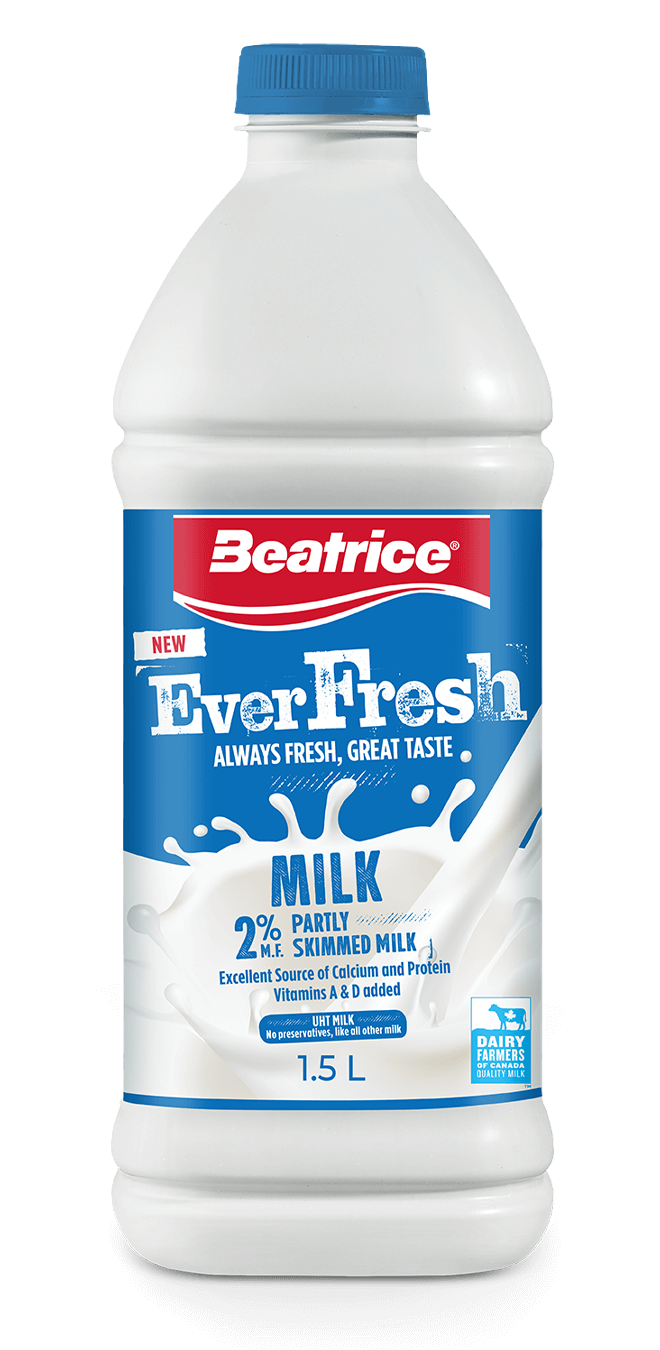 Beatrice Everfresh was launched to provide consumers with a great tasting milk that can be stored at ambient temperature for an extended period so that you can always have milk on hand!
We start with 100% fresh Canadian milk that is heated at ultrahigh temperatures (UHT), cooled and is bottled in a large 1.5L resealable bottle specifically designed to protect the freshness of milk for a longer period without the use of preservatives like all other milk. This is why Beatrice Everfresh milk can be stored for up to 7 months without refrigeration. Like all milk, it should be consumed within 7 days upon opening.
Our innovative packaging seals in the freshness and keeps out UV and Visual spectrum light, so you can enjoy that pure taste of Beatrice Everfresh milk. Both the bottle and cap are recyclable and BPA free.
Voted the Best New Product for Milk by Canadian consumers in a 2021 BrandSpark survey. Beatrice Everfresh tastes great and has the same nutritional benefits as regular milk. For best taste experience, just chill before drinking and enjoy.
Made with 100% Canadian milk
Excellent source of calcium and protein
Vitamins A & D added
No additives or preservatives like all other milks
Great for camping or to always have milk on hand
Find it in the grocery aisle (available at participating retailers)
Partly Skimmed Milk, Vitamin A palmitate, Vitamin D3
CONTAINS: MILK
Nutrition Facts
Per 1 cup (250mL) serving
Amount
Daily Value%
Calories 130
Fat 5 g
8 %
Saturated 3.0 g
+ Trans 0.1 g
16 %
Cholesterol 20 mg
Sodium 120 mg
5 %
Carbohydrate 12 g
4 %
Fibre 0 g
0 %
Sugars 12 g
Protein 9 g
Vitamin A
10 %
Vitamin C
0 %
Calcium
30 %
Iron
0 %
Vitamin D
45 %